SAPPHIRE NITRO+ Radeon RX 480 Technical Overview
BENCHMARK
July 27, 2016 15:07:43
AMD Radeon RX 480's debut was indeed a very exciting one. The newest addition to the Radeon series proved its solid performance and exceptional bang for the buck. No surprise, then, that it quickly became one of the best-selling GPUs on the market.
The new SAPPHIRE's NITRO+ Radeon RX 480 card promises to deliver more power, in an even better style with a perfectly crafted non-reference design. The company's goal has been to increase performance with factory overclock, improve the reference cooler so it can compete with the best and add some exciting features to help the card stand out from the crowd. Have they succeeded and designed another mighty member of the award winning SAPPHIRE NITRO series of graphics cards? Let's find out!
The Radeon RX 480 is based on the newest silicon from AMD, code-named "Ellesmere". This chip is also the very first implementation of Polaris 10, GCN's 4th generation architecture. It offers big-time improvements to memory bandwidth saving and asynchronous compute. All 36 of the chip's CU's are enabled in RX 480, giving it 2304 stream processors and 144 texture mapping units, a 12,5% increase over R9 380X. Like its predecessor, the chip features 32 ROPs. GDDR5 8 Gb/s memory, combined with a 256-bit memory bus, provides 256 GB/s of bandwidth—a respectable value, especially given the updated delta color compression algorithm it uses.
The SAPPHIRE NITRO RX 480 features SAPPHIRE's custom cooling solution, a major upgrade over the aforementioned reference design. Dual-X incorporates two ball bearing (85% longer lifespan) fans and is completely noiseless under low-load operation thanks to its semi-passive nature. Intelligent Fan Control III with NITRO CoolTech ensures that the fans don't rotate as long as GPU temperature remains under 52 °C (126 °F). The card comes overclocked out of the box to a GPU clock of 1342 MHz (1306 MHz on the 4 GB version) – that's about 6% higher than the reference clocks, and it makes the NITRO+ one of the highest clocked RX 480 cards on the market. Memory frequency has remained at 2000 MHz. Of course this is no surprise as there is no faster GDDR5 chip available.
| | | | |
| --- | --- | --- | --- |
| | GeForce GTX 970 | Radeon R9 390 | SAPPHIRE NITRO+ Radeon RX 480 |
| Graphics Processor | GM204 | Hawaii | Ellesmere |
| Transistors | 5200M | 6200M | 5700M |
| Shader Units | 1664 | 2560 | 2304 |
| ROPs | 56 | 64 | 32 |
| TMUs | 104 | 160 | 144 |
| Core Clock | 1050 MHz + Turbo | 1000 MHz | 1342 MHz |
| Memory Clock | 1750 MHz | 1500 MHz | 2000 MHz |
| Memory Size | 4096 MB | 8192 MB | 8192 MB |
| Memory Bus | 256 bit | 512 bit | 256 bit |
| Memory Bandwidth | 224 GB/s | 384 GB/s | 256 GB/s |

The card
The SAPPHIRE NITRO+ RX 480 is based on the company's custom PCB, designed specifically for this card. It is not very long—250 mm by our measurements. As a result, it shouldn't cause any problems during installation, even in smaller cases.
There is a stylish metal backplate on the back of the card. It protects sensitive components, increases cooling efficiency and also reinforces cooler mounting. The backplate is simply gorgeous, definitely one of the best looking designs on the market.
Power delivery requires a single 8-pin PCIe power connector. This is another upgrade over AMD's 6-pin reference design. Because of the modest size of the Dual-X cooling system, installation requires only two slots.
Display connectivity options include two full-size DisplayPort 1.4 HDR ports, a single DVI-D port (no analog output) and two HDMI 2.0b ports. SAPPHIRE's engineers also put air vents in the I/O section, offering another thermal optimisation measure.
Each fan's diameter is exactly 95 mm. Despite their size, they are capable of delivering decent airflow with moderate noise levels. Thanks to their design, they are also 10% quieter than the previous generation in SAPPHIRE's offer.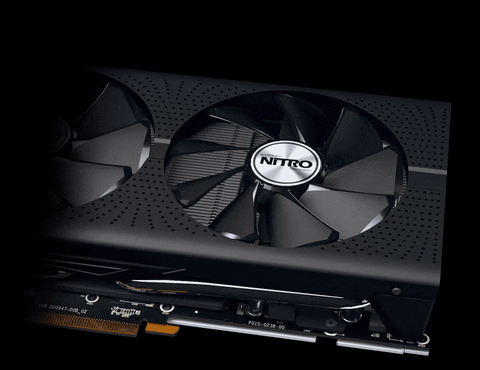 Yet another important feature is Quick Connect. Both fans are attached with just a single screw so you can quickly remove them for cleaning or replace them. There is no need to disassemble the cooler's shroud or any other parts of the card. This makes RMA much easier in case of fan failure. The Fan Check feature also allows you to monitor the fans' health (available in the upcoming TriXX 3.0).
Dual BIOS switch enables you to choose between Quiet and Boost modes. The quiet mode runs at 1266 MHz, with the fan profile tuned to operate as quietly as possible. In default Boost mode, the card unleashes its full potential by increasing the frequency to 1342 MHz (1306 MHz on the 4 GB version).
Last but not least, feast your imagination on SAPPHIRE's NITRO Glow, a beautiful LED illumination on the card's top that can work in various modes. It can also be fully customized through the upcoming TriXX 3.0. As the table below shows, there are six default modes, including color changes that register fan speed or temperature.
LED colour Modes
Function/State
SAPPHIRE Blue
Static blue
Rainbow
Phasing colours
PCB Temperature Indicator

< = 60 °C slow breathing blue (6 secs)

> 60 °C <70 °C mid-slow breathing light purple (3 secs)

> 70 °C < 80 °C mid-slow breathing deep purple (3 secs)

> 80 °C faster breathing red (2 secs)

Fan Speeds

0 ~ 200 RPM slow breathing blue (6 secs)

> 201 < 1000 RPM mid-slow breathing light purple (3 secs)

> 1001 < 1500 RPM mid-slow breathing deep purple (3 secs)

> 1501 RPM faster breathing red (2 secs)

Customized LEDs
End user can customize the colour. Static State.
LEDs off
Test Setup
| | |
| --- | --- |
| Processor | Intel Core i5-6600K @ 4,7 GHz |
| Motherboard | ASUS Z170 Pro Gaming |
| Memory | Klevv Cras 16 GB DDR4 @ 3000 MHz CL 12-14-14-28-1T |
| Hard Disk | Seagate Barracuda 7200.12 1 TB |
| Power Supply | Enermax Platimax 1350 W |
| Case | Antec Twelve Hundred V3 |
| Display | AOC Q2770PQU |
| Operating System | Microsoft Windows 7 64-bit SP1 |
| Drivers | Radeon Software Crimson Edition 16.7.2 and GeForce Game Ready Driver 368.81 |
We conducted all of our tests during real gameplay with Fraps 3.5.99, and all the results on the charts are the arithmetic means of the three test runs. Timer resolution was set to the lowest possible value of 0.5 ms. The screenshots below represent actual benchmark locations.
All games were set to their highest quality setting with the exception of Advanced PhysX, HairWorks and TressFX. These vendor-specific technologies are very demanding and may also be unfair to the rival camp.
Performance Results
The card is also up to 20% faster than GeForce GTX 980 in DirectX 12-enabled titles, such as Ashes of the Singularity and newest HITMAN.
Temperatures and fan noise
The Enermax Platimax 1350 W was replaced with a Digifanless 550 W for fan noise tests to ensure high-quality readings unaffected by PSU fan noise. The ambient noise was exactly 32,5 dBA. Room temperature ranged from 21 to 22 °C. GPU-Z 1.9.0 was used to perform temperature readings. Both graphics cards were tested with 15 minutes of The Witcher 3: Wild Hunt gameplay and left for 10 minutes to cool down.
The fan noise tests were conducted with a Voltcraft SL-100 digital sound level meter placed 40 cm from the case, at the projected height of a user's ears. All other fans were turned off for the duration of the tests.
There is no doubt that the Dual-X cooling system did a fine job here. It easily kept GPU temperatures at satisfactory levels, allowing the RX 480 to perform without any slowdowns caused by thermal throttling. SAPPHIRE promised 75 °C (167 °F) temperature target and this is exactly what the charts show. As other SAPPHIRE cards using the Intelligent Fan Control system, NITRO+ Radeon RX 480 is semi-passive, thus the noiseless operation in idle.

Power Consumption
Power consumption readings were carried out with a Voltcraft Energy Logger 4000F. This device is in the accuracy class of ±1% and operates in True RMS mode. The power socket delivered 230 V @ 50 Hz for us. All values on the charts refer to the entire test setup, not just the graphics cards.
This is where SAPPHIRE NITRO+ RX 480 really shines. Power efficiency is much higher than the R9 390's, thanks to its FinFET 14 nm fabrication node and improvements to the architecture. As a matter of fact, RX 480's performance per watt is comparable to NVIDIA's offerings like GTX 970.
Overclocking
The overclocking results listed in this section were achieved with AMD's WattMan utility that is RX 480 exclusive at the moment. Power limits and fan speed were maxed out to remove any potential bottlenecks during the overclocking. Then, to really put its stability to the test, we subjected the card to 15 minutes of intensive Crysis 3 gameplay
The maximum overclock of our sample was 1400 MHz on the GPU – about 4,3% higher than the stock frequency. GDDR5 memory also showed some OC potential. The maximum stable clock was 2150 MHz, exactly 7,5% above the stock value. These are decent results, especially considering the significant factory overclock the card ships with. What's more, you'll soon be able to use the upcoming TriXX 3.0 utility to turn up the voltage and achieve even higher frequencies.
Overclocking provides a nice performance boost of 9,7%.
Conclusion
Why you'd choose the SAPPHIRE NITRO+ Radeon RX 480:
Overclocked out of the box
Very good performance
Decent overclocking capabilities
Improved power efficiency
Low temperatures
Noiseless in idle
Quiet under load
DisplayPort 1.4 HDR and HDMI 2.0b ports
Dual BIOS
Fan features including Quick Connect and Fan Check
Backplate included
NITRO Glow illumination
SAPPHIRE NITRO+ RX 480 is an exceptional graphics card for all gamers out there. It offers very good performance, easily competing with highly overclocked MSI's GeForce GTX 970 GAMING 4G and SAPPHIRE's NITRO R9 390. Considering that RX 480 is a successor of the R9 380 series, performance results look even better. 8192 MB of VRAM is perfectly suitable for games that use more and more memory for textures—current and future ones alike.
Another advantage of the SAPPHIRE NITRO+ RX 480 is its Dual-X cooling system, which is a major improvement over AMD's design. It steps up and keeps the Ellesmere GPU at safe temperatures while preventing any thermal throttling. Semi-passive operating mode is also important because you won't hear a thing in all low-load scenarios. Dual-X is a very versatile cooler with huge potential that can be unleashed by increasing the fan speed, which is especially desirable when overclocking.
Speaking of overclocking, this is another highlight of the newest SAPPHIRE card. Our sample did not have any problems hitting 1400 MHz GPU clocking, a feat nearly impossible with reference design. You should be champing at the bit for SAPPHIRE to release its TriXX 3.0 – it's going to push the limit even further. With some overvolting, core frequencies around 1500 MHz shouldn't be a problem and performance will rise to new levels.
Of course, SAPPHIRE's exclusive technologies are also very important. Dual BIOS, Fan Check and Quick Connect are very useful ones that simply make our lives easier in certain situations, like RMA. The gorgeous NITRO Glow illumination is fully customizable and can provide certain information about the current state of the card. SAPPHIRE has also solved power issues of the reference design without affecting performance per watt.
RX 480 all in itself is a future-proof GPU as well. Its premium DirectX 12 features and performance may be a real game changer in the nearest future. We can already see considerable gains in current DX 12 titles and there will be more and more of these games coming. Vulkan API offers another chance for performance boosts as evidenced by recent Doom tests. DisplayPort 1.4 HDR and HDMI 2.0b display ports are also important because they will provide compliance with upcoming displays.
SAPPHIRE NITRO+ RX 480 is a great product for all gamers looking for great performance, decent overclocking capabilities, an efficient cooling system and outstanding build quality. If you're in the market for an RX 480-based card, check out the SAPPHIRE NITRO+ RX 480. Highly recommended for all enthusiasts!